"Here, the recipes of the culinary tradition are brought to the table with a pinch of creativity, to let the savors of this territory be discovered even by those who come from the other part of the world"
The kitchen of Fattoria di Corsignano has the taste of the authentic Tuscany. In the menu, which varies with the changing seasons, you will find dishes of the local tradition, expertly revisited by the hand of our Chef, to offer unforgettable tasting experiences. We proudly propose the typicality and authenticity of our land, with express and visible kitchen that involve guests in a special and personalized tasting path.
In addition to the internal room, we also have large spaces that allow our guests to immerse themselves in the nature that surrounds them, as an irreplaceable and unparalleled resource at our service: the porch, the pergola and our garden in front of the Restaurant will also allow you to enjoy the evenings outdoor.
Our Chef works according to the philosophy of the property to help to preserve the beauty and harmony of the place, avoiding the waste of water and electricity and paying attention to the waste production. We ask our guests to savor food and taste wine being aware that they are in a context that has sustainability at heart.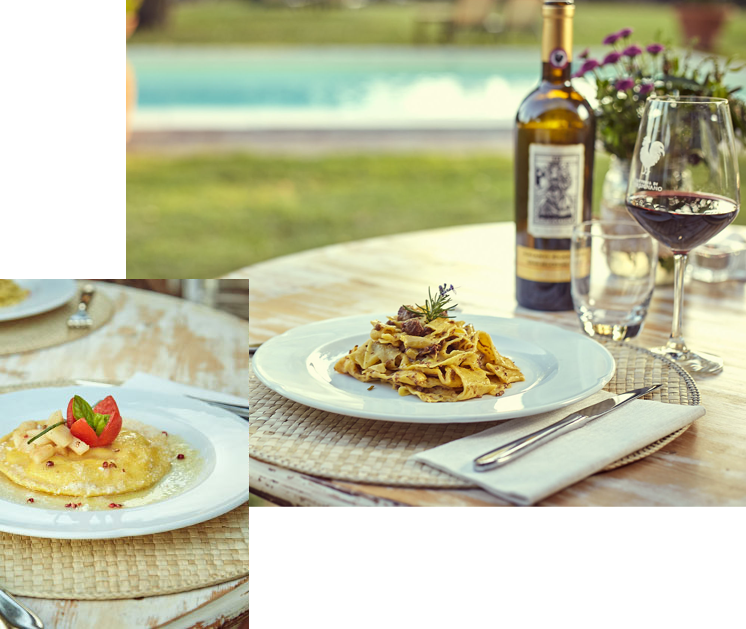 "Health is nothing but balance and harmony"
Our Restaurant takes care of your health. What does it mean? It simply means taking care of the way of cooking, caring not to exceed, proposing a balanced dish by combining ingredients that harmonize, enhance, contrast or degrease, using our aromatic herbs that represent an exceptional resource for cooking and health. Some of them can be called ``essential`` and they are basil, sage, thyme, rosemary and parsley. Each of these plants boasts excellent qualities for well-being. In addition, you can make tasty recipes with each of them without adding salt but adding health to every bite.
If you love yourself, eat well!
Apart from Elena and Mario's wish to take care of the guests and "to love them all", they also aim to create food and wine culture.
The Restaurant adheres with conviction to the philosophy of the short-chain and local suppliers. For the main preparations, our Chef uses organic production of vegetables coming from the synergistic garden of the property.
Our proposals include fresh homemade pasta and selected meats. All expertly accompanied by our wines, even old vintages.